Redevelopment of Hough shifts into high gear
A $5.5 million mixed-use development in Cleveland's Hough neighborhood aims to capitalize on one of the neighborhood's assets to restore some of the vibrancy it lost decades ago. It is building off of other developments that are underway and planned that promise to turn this recovering neighborhood into a stronger community.
That asset, 131-year-old League Park, is where the American League Cleveland Indians, now Guardians, played until 1946, the National League Cleveland Spiders before them, and the Negro League Cleveland Buckeyes after them until 1950. The Baseball Heritage Museum occupies the most significant remaining portion of the old ballpark, its ticket office on the northeast corner of Lexington Avenue and East 66th Street. On the northwest corner of that intersection, a partnership comprised of Signet Real Estate Group, law firm Brennan Manna & Diamond LLC, Ozanne Construction Co. and the museum plan to construct several new buildings totaling 27,000 square feet. They will accommodate retail, restaurants, offices, recreational activities and four apartments on the upper floors of the largest proposed building. The development site is just under 1 acre.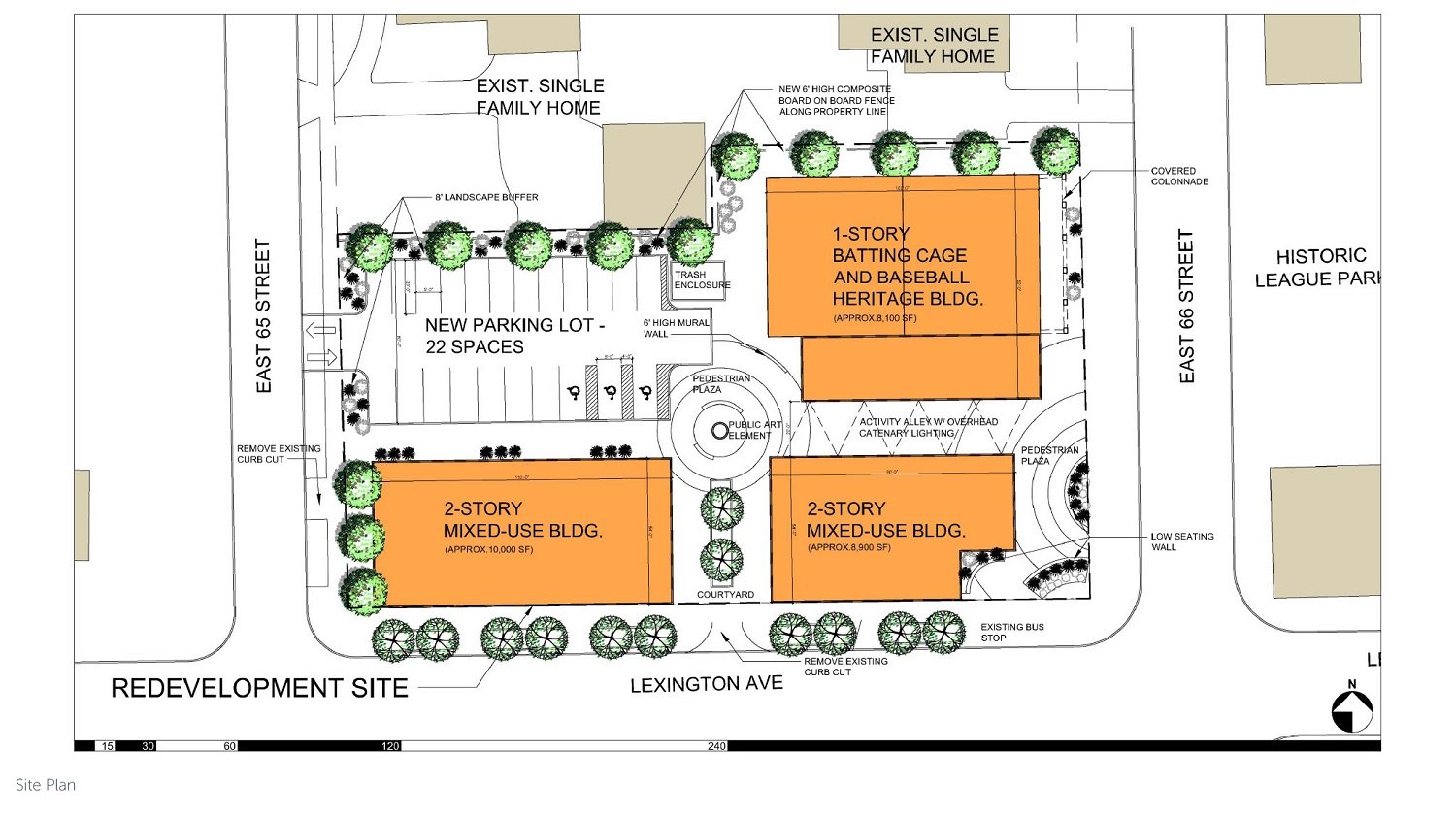 "(The site) would be used to develop retail space for two new businesses in the area, most likely two new franchises and expansion office space and programming space for the Baseball Heritage Museum which is currently housed in League Park," according to a project summary provided to Cleveland's Planning Commission by the project's partnership.
"The museum will continue to run out of League Park and use the new development space for indoor batting cages for year-round use, office space for historical archiving projects, and meeting space for programming led by the museum and community members," the summary continued.
The summary noted that the partnership will conduct a feasibility study to determine the best business ventures to bring to the community at the project site. However, the study will not be undertaken until all of the desired properties are acquired. The only parcels not under ownership by the project partners are several City Land Bank lots.
Cassandra Manna, a spokesperson and lawyer for the partnership, was unavailable to comment prior to publication of this article.
City Planning Commission on Friday will hear a presentation by Manna and the partnership to get feedback on their project proposal. This could be the latest ofmany developments occurring in Hough. Redevelopment of the area has been picking up speed in recent years after decades of overpopulation, blockbusting, poor housing and lack of jobs that led to the Hough Riots of 1966. Decay accelerated afterwards, followed by stabilization in the past 20 years.
League Park was briefly called Dunn Field from 1921-1927 and serves as a reminder of bygone days of baseball glory. It was where the Indians won the World Series in 1920, Babe Ruth hit his 500th home run in 1929 and the Buckeyes won their World Series in 1945. Part of an outfield wall was blown down in a 1948 storm. The Cleveland Buckeyes played the last professional baseball game at League Park in 1950.
The park was partially demolished and sat neglected for decades. But in 2014, the city rebuilt League Park's field, stands, historic elements and landscaping while adding a visitor center for $6.3 million. City officials said the old ballpark was the first former Major League stadium to be turned into a community park.
The Baseball Heritage Museum had planned several years ago to renovate the decaying, long-closed Gensert's Drug Store on the northwest corner into a souvenir shop and for selling coffee and ice cream. But the former pharmacy with soda fountain built in 1890 was too far gone to be saved. It was purchased this week by the development team for $19,254, county records show. Also acquired were four vacant parcels north of it along East 66th for $63,600.
To the west, along East 65th, three city land bank properties are being acquired by the development with a fourth parcel owned by E 65th Baseball, LLC to be incorporated into the site. A century-old brick apartment house with wood framing on that property will be razed. It is rated in very poor condition by county appraisers.
On the southwest corner of Lexington and East 66th, a new Hough branch of the Cleveland Public Library is due to open in 2022. Just east of it on Lexington, Saint Agnes Our Lady of Fatima Church completed a soaring new assembly hall last summer. Just northwest of League Park, construction could begin this year on Frontline Development's 26-home Allen Estates at the corner of East 66th and Linwood Avenue.
This is Signet's second development in Hough. At the corner of Hough Avenue and Ansel Road, the Akron-based firm developed the 163-unit Axis On Ansel Apartments in 2019 for $35 million. That market-rate development leased out in a year despite the pandemic. Now, Signet is building the Foundry Lofts, a 160-unit apartment development at 7240 Euclid Ave. in Midtown. It is due to be completed by fall.